Introducing our new Business Development Manager Paula
November 14, 2016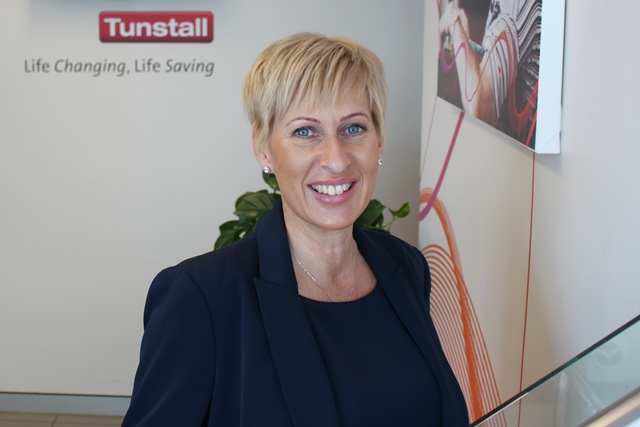 Introducing Tunstall's new Business Development Manager, Paula Ridsdale. Learn why she made the switch to Tunstall and what she enjoys most about her new role.
Bringing over 25 years of sales experience to Tunstall, Paula has previously worked as a Business Development Manager at Independence Australia, Coca-Cola Amatil and L'Oréal.
Paula is experienced in managing stakeholder relationships, providing client support, identifying business opportunities and executing sales plans.
Commencing in October 2016, Paula contributes to the overall growth of the business, focusing on new partnerships across the Northern Territory, Queensland, South Australia, Victoria and Western Australia.
Paula's passion for aged care compelled her to join the Tunstall family, so we caught up with Paula to see how she's enjoying life at Tunstall.
Thanks for making time to chat with us Paula.  How are you finding your new role?
It's a fast-paced position with an energetic team. I find it really humbling to hear staff members assisting our clients and it's obvious they're passionate about what they do.
I'm learning a lot on the job and my colleagues are so helpful, providing product training and support, and the office is also abuzz with anticipation of our new products that are launching soon.
Why were you drawn to the position of Business Development Manager at Tunstall?
I was looking to remain within the aged care industry and find a long-term position in a large organisation with a great company culture. Tunstall really stood out to me as a company that could provide me with everything that I was looking for – a growing business with an excellent reputation and strong company values. I also felt confident in sharing a background with Tunstall since we both originated from the UK – just another factor that made Tunstall really feel like home.
What are you most looking forward to in your position?
I'm most looking forward to developing new business opportunities and identifying areas in which we could expand. I have a strong passion for supporting clients, so I'm excited to provide both current and prospective clients with Tunstall's new product options, adding value to their businesses and ultimately improving the lives of our end-user clients.
What's the best thing about Tunstall you've experienced so far?
Definitely the people and the company culture! Tunstall has a really tight-knit family feel – everyone is so welcoming and supportive, and clearly passionate about the company and what we do. It's refreshing to experience such a positive culture shared by all.
Can you give us an overview of your career before joining Tunstall?
Before moving to Australia I worked in the UK in account management and business development positions for large fast-moving consumer goods (FMCG) corporations including, L'Oréal Coiffure and Scottish Courage Brewery.
When I moved to Australia, I needed to work in an area where there was a skills shortage, so I started as a technical Sales Consultant within the skin care and beauty industry at L'Oréal. I then moved on within the same industry to True Solutions International and Inskin Cosmedics, managing business development and sales, as well as developing and delivering clinical staff and client training.
After a few years in the skincare and beauty industry, I moved back into FMCG as a Business Development Manager for Coca-Cola Amatil, and then into aged care at Independence Australia.
Why did you make the change from Coca-Cola Amatil to health and aged care?
My husband is a police officer so when he was placed in the regional town of Moranbah for work, I joined Coca-Cola managing business development and sales in the area for all FMCG channels including grocery, petroleum and licenced products.
At the same time, I remained involved in aged care as well as volunteering for a not-for-profit organisation, welcoming people new to Moranbah.
Once my husband was stationed back in Brisbane, I returned to the aged care industry because this is the area I'm most passionate about.
What are some of your hobbies outside of work?
I really enjoy being active and keeping my fitness levels up, so I go to the gym every day and personal training once a week. I've also recently competed in True Grit, Miss Muddy and The Holt Bolt obstacle course events. I like to challenge and push myself, and to say these were challenges would be an understatement!
I'm also about to start paddle boarding – I hear it's great fun and a fantastic core workout. And one of my all-time favourite things to do outside of work is to go horse riding.
So you're a bit of an animal enthusiast?
Yes, you could say that! I have so many pets!
I have a horse called Bullseye, who loves eating ANZAC biscuits and liquorice. I also have two dogs, a Rottweiler Rebecca and a Rottweiler/Staffy cross Harvey, as well as my cat Frankie who is a Manx and has no tail, and we have about 12 Muscovy ducks that are breeding on our property, so there are lots of ducklings running around!
You're originally from the UK, what brought you to Australia?
Initially, I came to visit my grandparents for a month over Christmas one year, and within three months of returning to the UK I had sold everything and moved to Australia permanently!
Once I'd moved, I researched industries that had job shortages so that I could get an Australian sponsor and then began working as a technical Sales Consultant. I met my now husband a while later and have never looked back!
We're glad to hear it! Thanks for letting us get to know you, Paula.