Get to know Tunstall Telehealthcare Consultant Warren Duce
February 17, 2017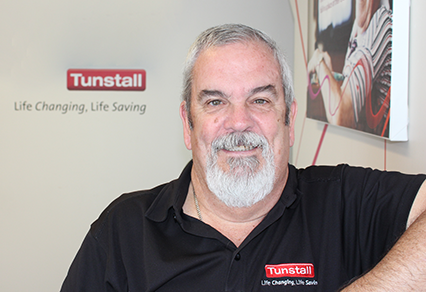 Most of our customers have met our resident connected healthcare expert Warren Duce and know how passionate he is about his job. We sat down with Warren to learn why he loves working at Tunstall and what makes him so passionate about our company and his role.
As Telehealthcare Consultant, Warren works closely with our Business Development Managers to provide valuable support to Tunstall's corporate customers across Australia.
Warren is also a well-known face of Tunstall, attending community and industry events to educate community care providers, occupational therapists, carers and individuals about our range of connected health and care solutions that provide support and independence to our customers.
Warren has been with Tunstall for almost 15 years, and brings to his role high levels of technical knowledge and service, and a real passion for supporting our customers.
Thanks for spending a few minutes in the office so we can chat, Warren.  Can we start with your career history before you started at Tunstall?
Before starting at Tunstall I worked at Chubb Security in their monitoring centre for seven years, monitoring medical alarms.
Prior to that I worked at Marshall Batteries as the Sales Representative for Queensland I'm also a motor mechanic by trade, so I've had quite a varied career!
And how long have you worked at Tunstall now?
I started working at Tunstall in 2002 so I've been here for almost 15 years now!
My first position at Tunstall was as a Care Consultant monitoring customers' medical alarms, speaking to them over the alarm and arranging help for them in emergency situations. After that, I became Tunstall's first Field Services Officer – visiting customers' homes and retirement villages to install and service their alarms.
In my current position as Telehealthcare Consultant I work within the Business Development team to support our corporate customers, attend events to educate people about Tunstall solutions and how they work, and I still install the odd speciality alarm solution for some of our customers.
Wow! That's a long time! You must really love your job.
I really do! I feel such a sense of satisfaction knowing that we can help people with just the press of a button.
I like to treat every customer as though they're my own mum or dad. While I'm visiting someone at home I like to identify any safety issues that I notice, like trip hazards that I can see, or if the house is extremely warm, and just educate customers about these things so that they're aware and can stay safe.
So what is it about your job that you enjoy most?
Definitely helping people and making sure they stay safe, as well conducting resident talks at retirement villages to make sure that residents know we can help them whenever they need us.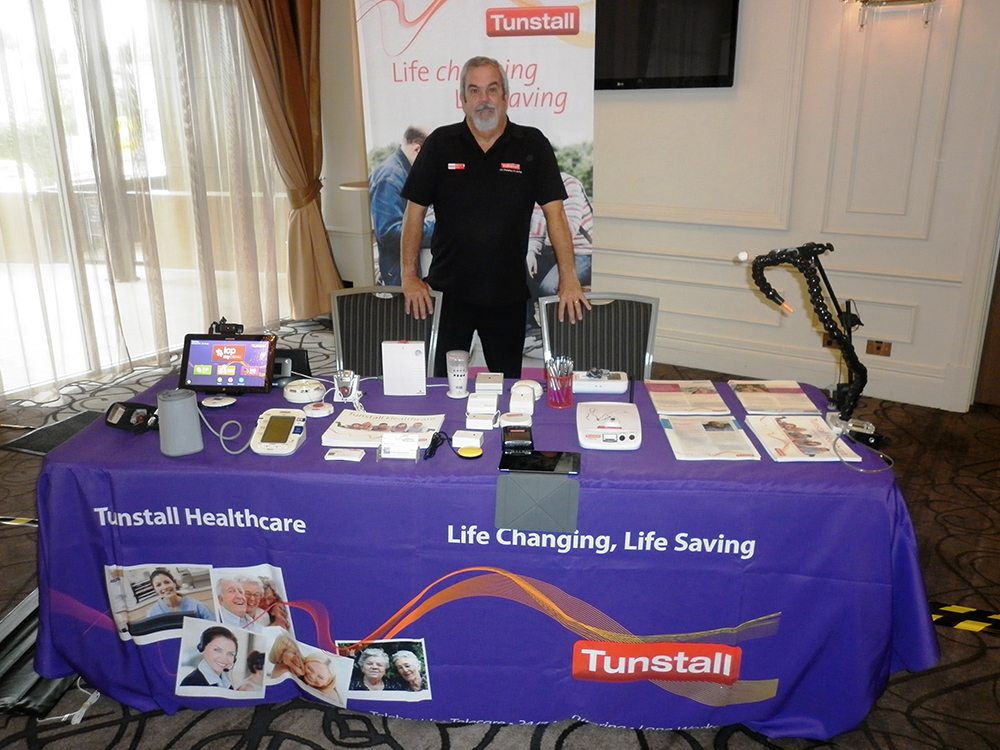 And what's the best thing about working at Tunstall?
Having worked at Tunstall for such a long time, I've really enjoyed watching the company grow and the success we have achieved.
The company culture – particularly our food culture – is also very welcoming, supportive and produces a sense of comradery. Years ago I brought my old BBQ into work to cook a staff breakfast for everyone and since then we've had regular BBQ lunches and breakfasts where we can all come together to enjoy a meal as a part of the Tunstall family.
Your job involves a lot of travelling to visit customers – what are some the most memorable places your job has taken you?
I'd have to say Central and North Queensland – I really enjoy the relaxed, laid-back lifestyle and the friendly people, as opposed to the hustle and bustle of major cities.
So you enjoy travelling?
Absolutely! My wife Jeanette and I really enjoy travelling – particularly on cruises! We've been on six cruises now, and the best one would have to be the Queen Mary II. We flew to Hong Kong to board the ship, cruised to Darwin and then caught the Ghan to Adelaide – such a memorable holiday!
We're also looking forward to a snow trip to New Zealand later this year.
Sounds like the two of you have a lot in common. How did you and Jeanette meet?
We met when we were both working at Marshall Batteries. Jeanette was the office girl and offered me her spare bedroom when I was looking for a new place to live and the rest, as they say, is history! We've been together for 37 years now!
That's a long time, Warren! So you chatted up the office girl and now you have a couple of fur-babies together. Can you tell us about them?
Yes, we have two Golden Retrievers who are rescue dogs that we got in Melbourne. Kaizer is a 9½ year old male and Remy is an 8½ year old female. They're absolutely beautiful, loyal and know how and when to comfort us.
It sounds like they're well and truly part of the family. What do your sons think about being replaced by Kaizer and Remy?
Well they're all grown up now and have a dog of their own so I think they understand the appeal!
And what do your sons do for work?
Jamie and Danniel are painters and have recently expanded into the concreting as well. They both love fishing and Jamie is now also a professional fisherman, so they bring a lot of their catches home and, I hate to say it, but sometimes I get really sick of seafood!
Thanks for the chat, Warren. We're glad to hear that even after all this time you're still so passionate about your work!