Tunstall's Find-me carers watch extends independent living
November 16, 2016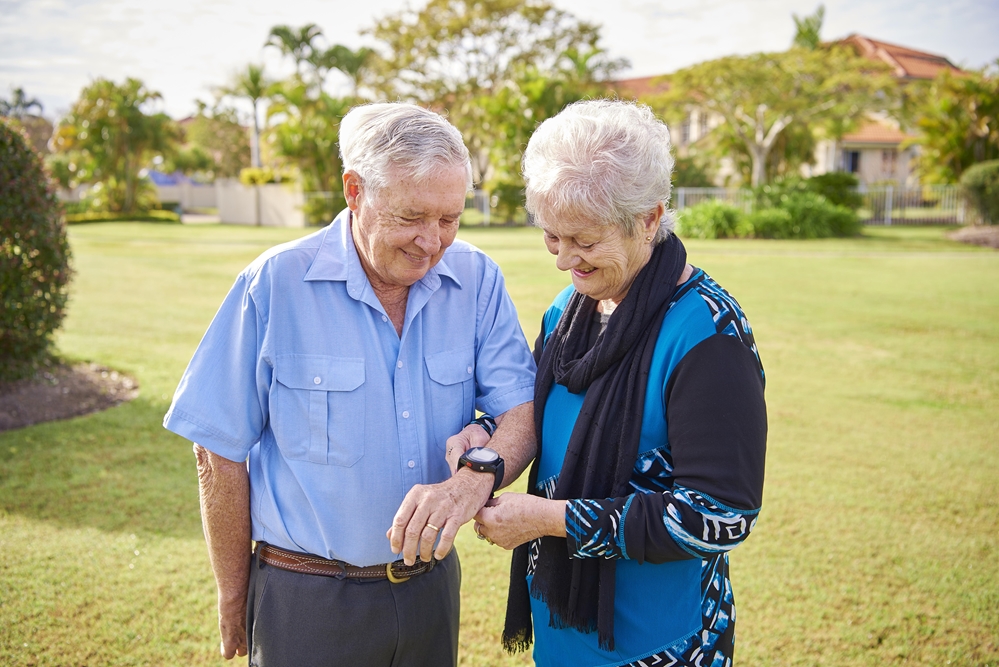 At first, finding your keys in the fridge instead of on the counter might be a little humorous. How did these get here? Silly me! But once little instances like these start to happen more frequently, you might be facing a bigger problem: Dementia.
A diagnosis of a condition like dementia is not only stressful for the individual, but often the whole family as well. This condition is notorious for worsening over time and making it harder for seniors to do daily activities that were once second nature. Therefore it's only a matter of time until the family needs to step in and get assistive care to prevent dangerous accidents from happening. Naturally, the idea of losing one's independence isn't always easy to accept and is often met with opposition. Families often don't want to upset their loved one either, but it must be done in order to keep them safe.
That is until Tunstall Healthcare teamed with Find-me Technologies, the developers of the Find-me Tunstall carers watch, a mobile personal emergency response system, GPS tracker and falls detector all in one solution to extend independent living as long as possible.
Operating on the 3G network, this watch has the ability to contact our 24-hour monitoring centre and two other designated contacts. Best of all, the GPS tracker sends alerts when the user goes outside a certain radius or reaches a set destination, easing the worry about loved ones who have a tendency to wander. The Find-me Tunstall carers watch can be tailored to meet individual needs to offer a personalised duress solution.
We did a Q&A with Chief Marketing Officer, Find-me Technologies Bruce Jeffers, to discuss the significance of a mobile personal emergency response system and how it can be a welcome solution to those who are unwilling to give up independent living. Let's check it out.
Q: What inspired you to develop the Find-me Tunstall carers watch?
A: With the Find-me Tunstall carers watch, we wanted to create a product that had the potential to transform lives. The watch has a range of functions that make it ideal for a wide range of users. Find-me has been working with Tunstall for over three years. We see Tunstall as one of the leaders in being able to provide the support for age care and healthcare, while also sharing our values and passions for the clients that we offer. The wearable technology is a huge criteria, it provides support where they can live independently longer.
Q: Who did you have in mind when developing the carers watch?
A: From my perspective, my grandmother was living independently, and at 90 years of age she was prone to falling and fell on multiple occasions. My family talked about putting her in full time care and as a result, when she fell she stopped telling the family.
As a result, when she fell she stopped telling the family.
So from that point we had developed the watch – we said as long as you wear this every day, we won't talk about putting you in a home and it kept her living independently in her home for another six years. That's what the watch is about, helping people live independently longer. The great thing about the watch is just how flexible it is. The features available ensure that just about anyone can find a specific use for the watch.
Q: What goes in to developing this kind of technology?
A: To ensure we developed the best possible product, we chose to build it from the ground up, carefully selecting and developing each element. As the product was purpose-built, we were able to develop the perfect product that meets the needs of our customers. It's not an off the shelf solution. We decided this technology needed to be 3G, have a fall detector built in and be water resistant so if you fell in the shower it would send the alert whether you activated it or not.
Q: Where do you see wearable technology going in the next 5 to 10 years?
A: Wearable technology is certainly a huge growth area, and there is a great deal of potential to transform the traditional care paradigm in this country. We're excited to explore new opportunities to meet the challenges of an ageing population.
If this sounds like a solution you would be interested in hearing more about, or picking up for your loved one, please get in contact with us today – we would love to chat more with you.